IMPORTANT INFORMATION ABOUT OUR PRODUCTS AND BUNDLES
We will soon be entering our 10th year with Pedaldeck and it has been a great opportunity to demonstrate what British innovation and design can achieve to combat imported goods, principally manufactured in China with cheap labour and materials, and remain competitive with a high quality product. 
However, recent challenges brought about by the energy crisis and surges in aluminium prices, coupled with Brexit supply chain changes for raw materials essential to manufacture our boards, have made it impossible to maintain a price point that we consider right for the average UK musician.
So, for now and the immediate future we will sell through our remaining stocks of the current board and tough bag ranges, but it is unlikely we will re-manufacture before 2024.This is hugely disappointing for us as we have tried to pioneer Musical instrument manufacturing in the UK, only to be met with distribution and retail environments that are controlled by the accountants and not the musicians. Therefore, not ready to stock and support small independent makers like ourselves. The one exception been Andertons Music, who have been hugely supportive of our brand and continue to do so. Andertons are champions of the independent MI sector and I urge all musicians to continue to support these guys over the faceless drop shippers online.
This is not the end for Pedaldeck. We will now enter a new period of research and development, looking at more sustainable material options that will remain 100% manufactured in the UK, but it might take us a while before these products are available on the site.
Thank you to all our customers over the last 9+ years and watch this space we will be back, even after our current stocks are sold. 
See our store listings for current stock positions
Highest quality construction with a range of design features confirming why these British made boards are the guitarist choice in the UK. Available in three sizes; Artist, Player and Solo boards to meet every 'pedal heads' needs.
INTRODUCING THE NEW PEDALDECK TOUGH GIG PRO BAG RANGE. "IT'S TIME TO GET TOUGH FOR YOUR TONE!"
Now available in two custom sizes, these new bags are the highest quality pedalboard bag available that is British designed and manufactured and now include the option to further strengthen their already tough exteriors with custom 100% recycled polyester/polethylene panel inserts, that raise performance specifications to tour case protection levels (See video)
Pedal Board and TUFFBAG Bundles
 Save £10 off our new TOUGH GIG TRAVEL BAG when bundled with your choice of Artis, Player or Solo pedal boards
What about those little extras that make building your pedalboard a joy rather than a chore? 2m of hook and loop adhesive tape are included free with your board purchase, buy you may choose to upgrade to 3M Original Dual Lock Tape for a super secure fixing or may be use a combination of Hook Tape and Dual Lock for a secure but flexible set up. We provide a universal fixing bracket with your board purchase, but you may want more than one accessory mounted on the underside of your Pedaldeck, so add a second bracket set,when needed. Plus, if our Tough Gig Travel Bag is just not tough enough for you, why not add reinforcement inserts to get close to tour case protection when you are out on the road?

Pedaldeck Pedal Boards
Our Pedal boards are designed and made in the UK. Manufactured from a single piece of high-grade aluminium, each board is precision engineered to be the perfect platform for your pedals. We've also pre-drilled all the holes and slots, ready for a wide range of power supply options to be fitted securely with our included universal bracket fitting kit. Our unique blade folded design creates a strong lightweight board and provides the perfect channels on the underside to run patch and DC power cables clipped neatly in place. We include 2 metres of Hook and loop self-adhesive tape with every board and also the option to add 3M Interlocking tape if you prefer.


Plus, now we have added a new range of UK designed and manufactured TOUGH GIG TRAVEL BAGS too!
At Pedaldeck we are always listening to your feedback, and we're also always thinking. Always looking for the next development, to make what we do even better, so we are thrilled to unveil our new range of British designed and manufactured Tough Gig Travel Bags. The clue is in the name. These 'Tough Gig' bags have protection where it counts, to keep your pedals and boards safe when you are out and about gigging. Hard wearing, elegant, and a huge step up in materials specification, practicality and quality over our previously imported pro gig bags. Great value too, with a retail price point currently 30% lower than the nearest equivalent dedicated pedalboard soft bag. Plus, with our optional upgrade to include rigid high impact inserts into our smart pouch design that gives access to the bag linings, the TOUGH GIG TRAVEL BAG bag just gets even tougher to become our TOUGH GIG TOUR BAG. These new bags are available in two sizes. Our larger standard size fit our Artist boards, and a new smaller format which provides a snug fit the Player or Solo board options. Both sizes are equipped with an additional front pouch, for storage of all those little bits and bobs we guitarists need to carry, but we want kept away from our precious pedals. Serious about your tone? Get tough over protecting it.

We've worked hard since 2014 to design and manufacture competitively priced pedal board and case range, right here in the UK.
A British made quality product bursting with new features for convenience, protection and value.
A little piece of 'Cool Britannia', we hope you love Pedaldeck Guitar Effects boards and bags as much as we do.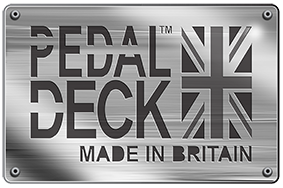 Learn more about your choices of Pedaldeck and Tough Gig Travel & Tour Bag Options in our video library and social media posts