From the outset our mission has been to make our products in the UK. We are delighted to have now been recognised as a British Manufacturer of quality products by the Made in Britain Organisation
This government backed initiative brings together organisations dedicated to manufacturing goods here in the UK, managing sustainability and the provenance of its manufacturing resources including components, raw materials and labour and we are highly motivated on all counts to keep our products ethical and competitive. 

If there is one thing, we Brits are famous for it is gritted determination coupled with innovative thinking. Ok so a new pedal board won't solve world peace or cure us of all ills, but it did need improving Pedaldeck has taken the staid and accepted format of the humble pedal board and asked questions about how it could be better, without breaking the bank and by keeping its manufacture right here in the UK

Smart engineering design, coupled with a sound knowledge of lean manufacturing techniques and advanced materials engineering, (normally reserved for aircraft and rocket science) have been applied to our new pedal board design. This not only reduces manufacturing costs and time, to keep it competitive with Far Eastern imports, but also allows the addition of a range of new features and benefits unavailable on other boards. Like no drilling, easy power supply installation and better cable management.Every Pedaldeck is engineered from a single section of high-quality aluminium, laser cut and formed to provide a stable, lightweight but super strong platform. And now with wider power supply options, you can load up your board with even more pedals
We've added two new Tough Gig Travel Bags to our range too. The Tough Bag-A for our Artist boards and the Tough Bag-PS for Player and Solo sized boards

These tough new gig bags are British designed and manufactured to protect precious pedals in transit, using a mixture of innovative materials, and traditional hand-made, machine sewn techniques with high quality components including webbing, handles, zips and padding design
Pedaldeck Tough Bags also offer the unique feature of adding optional reinforcement inserts, made from 100% recycled material that increase protection performance up to tour case standards on top and base
Pedaldeck boards first launched in 2014. Our mission was simple, take the staid old aluminium pedal board concept and improve it by solving some acknowledged challenges with existing products, reduce manufacturing processes and make available a competitively priced board that could be manufactured in Britain. We succeeded with our board's but our soft case travel bags were to prove a much bigger challenge.
The fact is that Britain can still globally compete for engineered product, but the textile sector and especially the bag and cases market had long since lost out to cheaper materials and lower cost labour of the overseas manufacturers.
Finding a cheap bag maker prepared to meet our exacting quality and design standards proved impossible, and until 2021, we too sourced our Pro Gig Bag from China. It was a good bag – it was designed here in Manchester and we specified upgraded materials and new features that have proved really popular. But it never quite sat well with our team and the hunt continued to find a British made solution.
Something had to change if we were to succeed and then it became quite obvious when I started added up the value of our own effects' pedals, isolated power supplies, quality cables and of course the pedalboard itself. It doesn't take too long to surpass £1000 invested in tone on an average pedalboard, so we came at our bag problem from a different angle.
Musicians and especially guitarists, appreciate quality and accept it comes at a price. Who doesn't love a custom shop Fender or a vintage Gibson or quality acoustics like Taylor Guitars and Martin, the sweet tone of a vintage valve amp and of course the plethora of guitar effects pedals from some of the best electronics geniuses on the planet that help us shape our tone to the perfect sound we crave on stage or at home.
"The light bulb moment was that we didn't need to make a cheap bag, we needed to make the best bag for the job"
We needed to solve some travel challenges for gigging musicians, like weight, durability, portability and most of all protection for our precious pedals. Now not every musician travel by private jet to their next gig, so not everyone needs a flight case, if you are tight on space already in the back of the hatchback, or the drummer has taken up 80% of the van with his stadium kit on the way to the pub venue in the next village, then your choice of travel bag is important and gear protection on the journey remains paramount.
Step up the 'all new' British designed and manufactured Tough Gig Travel Bag from Pedaldeck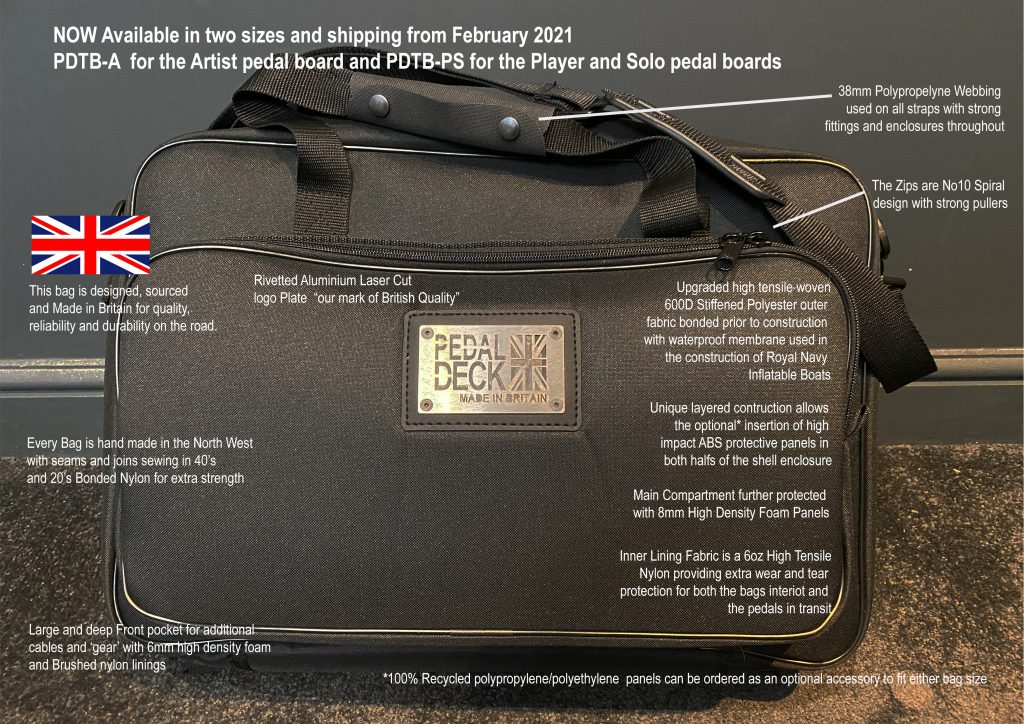 After 4 years of head scratching, material testing and working with an exceptional custom bag manufacturer with over 30 years' experience in the North West of England we hope we have made the pedal board gig bag that musicians have been waiting for. Many of the features of our new bags are highlighted in the image shown. These features and benefits have come at a cost. Our original bag retailed at £40, the new Tough bags start at £95 but we believe the benefits outweigh the cost increase. (especially if you consider the nearest to our specification bag available in the UK is at least £50 more expensive – you know who they are we are not naming them here.
Instead, we invite you to take a closer look at our Gig Bags and judge for yourself if our investment in care, detail, specification, providence, sustainability and eco credentials is worth your investment to protect your pedals.
Thank You
Steve and The Pedaldeck Team