The Artist Series
One thing we do know is that guitar effects are addictive. Guitarists search for their own perfect signature sound and often build up quite a collection of effects, before settling on their personal perfect cocktail of sound. The Artist Series offers almost 0.2 square meters of board space and, as with all our boards, can be easily expanded by bolting together additional Artist or Player sized boards as your pedal obsession, sorry,
collection grows.
UNIVERSAL BRACKET CAPACITY: 54MM MAXIMUM DEPTH / 90MM MAXIMUM WIDTH / LENGTH OF SUPPLY DEPENDENT ON BOARD SIZE CHOICE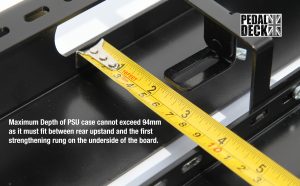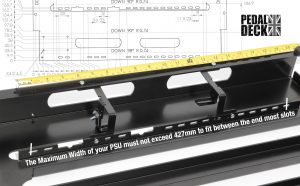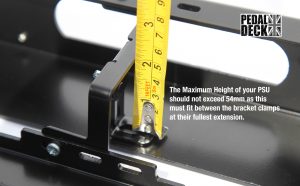 The Pedaldeck range can be easily extended with the Artist and Player boards able to connect side-by-side with a standard wing nut and bolt (not supplied) to provide a wider deck area for connected pedals.
If you are serious about building and layering your sound through multiple effects then the Artist Series is the perfect partner for the gigging musician or studio player and can be purchased with the optional Gig Bag for protection on the road, on tour or just on the way to rehearsals in your mate's garage!The Artist is our largest single board, and the optimal size for a neat, tight fit to our Tough Gig Travel Bag-A
SEE OUR OTHER LISTING FOR GREAT GIG BAG BUNDLES that include the TOUGH GIG TRAVEL or TOUR BAG options